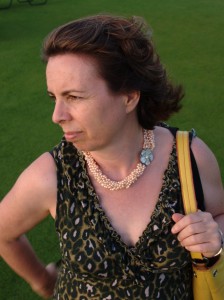 This page is in memory of the love of my life, and best friend Kathleen McSpurren . Born October 31st, 1963 and died July 29th, 2013 after an 18 month struggle with duodenal cancer. Kathleen was born in Brockville Ontario and then moved Carleton Place soon after. She grew up there with her 2 brothers Don and Drew and her sister Mel. In 1977 Kathleen and her family moved to Ottawa where she continued her education. Highschool didn't initially work for Kathleen and she dropped out. But through grit and determination, she went back to adult highschool where she achieved an Ontario Scholars standing with an 87% average.
She then went onto the University of Waterloo. There she did her undergrad in Russian and Women Studies before completing a master's degree in Sociology. She worked briefly in Toronto at Decima research, but when an opportunity came up to return to Waterloo to pursue a PhD, she leaped !
Eventually she found her true vocation at the SRC (Survey Research Centre) at the University of Waterloo. Over the years she made many great friends and professional associations. She loved her work and looked forward to each and every day for the professional and personal rewards she found there.
She was proud member of Zonta, a worldwide organization of executives in business and the professions working together to advance the status of women.
Sadly, in April of 2012, her life was changed when she was diagnosed with Duodenal Cancer. That journey was documented on her blog, http://inthecancerbubble.com. On July 29th, 2013 she passed away peacefully at home with myself, her mum Elaine and her close friend Jan.
She will be greatly missed by many people whose lives she touched over the years.
Two pictures of Kathleen are below from the start and near the end.  However, there are two slide show collections you can browse through at https://picasaweb.google.com/miketancsa and here.  If you would like to leave a comment, please do so!